Purdue Finance Workshop hosts Wall Street Prep event
November 16, 2015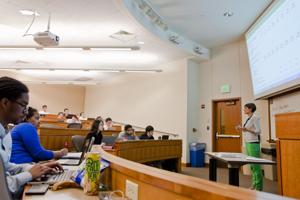 Mujtabaa Hasan | Senior Photographer

11/14/15 Hannah Barnstable, Seven Sundays
Hannah Barnstable, president and founder of Seven Sundays, teaches Wall Street Prep, a program introducing students to professional finance skills, during the Saturday session of the Purdue Finance Workshop in Rawls Hall.
The Purdue Finance Workshop, a student-run organization, hosted its main event at Rawls Hall on Saturday and Sunday. The event, a Wall Street Prep training program, aimed to introduce students to the day-to-day of a finance professional and the skills necessary to value a company.
Two Purdue students and two alumni founded the organization in the fall of 2013 to connect Purdue's Wall Street alumni with high-potential students. The goal was to provide a more structured path to obtain an internship or job in high finance.
The two-day workshop included instruction about how a Wall Street analyst values a company using financial statements, as well as instruction on how to build a financial model using Excel.
Ti Liu, a junior in the Krannert School of Management, has gotten involved with both the organization and the Wall Street Prep workshop and hopes to secure an internship in finance this summer.
"The (workshop) provides students with practical skills, but it's the soft skills that are more important and have been the most helpful to me," said Liu.
Mitch Witteveen, a sophomore in the Krannert School of Management, attended the workshop because he is considering pursuing an internship in investment banking.
"It was very interesting to learn how people use quantitative data to understand the fundamental value of a company," said Witteveen, "I feel much more confident in talking to finance professionals with the knowledge taken from this weekend."
In addition to the Wall Street Prep workshop, the organization hosts networking opportunities with alumni who return to their alma mater to teach students in hour-long sessions about how to navigate a path to a highly selective investment bank.
"The networking events give students the opportunity not only to get advice and learn, but also an opportunity to make lasting connections with alumni," said Nick Żak, co-founder of the Purdue Finance Workshop.
The four founders – Żak, Chris Moorman, Blake Saunders and Sam McCartney – all agree that the workshop is the best avenue for a student who is interested in obtaining a job in finance.
"The path Blake and I took in getting to Wall Street was all over the place and much harder than it needed to be," said Moorman, "With the (workshop), there is a more structured route, a pipeline for students."
McCartney, who was able to obtain a full-time job in Manhattan with the investment bank Guggenheim Partners, found success through the workshop.
"Building relationships with alumni through the (workshop) was instrumental for me," said McCartney.
Although the Purdue Finance Workshop is still a relatively new organization, the opportunity for Purdue students from any school is available.
"The workshop was extremely helpful to me, and it can help any motivated student who thinks this could be the path for them," said Żak.
NEWS FROM HOMECOMING WEEKEND
October 2, 2014

Homecoming weekend was a success for the Purdue Finance Workshop, with two well-attended lectures led by three alumni finance professionals. 75 students, ranging from PhD candidates to undergraduate sophomores, were in attendance in the sessions covering topics from the recruitment cycle to development of skills outside the classroom.
Even more engaged than in previous workshops, the students' questions truly carried the day with the informal tone putting communication at the forefront of both sessions. Of particular focus this year to the students, was the pivot away from traditional target schools such as the Ivies at banks like Jeffries, to a more robust recruiting engagement favoring schools such as Purdue.
Students honed in time and again on the qualitative skills needed for the interview process, looking for both reading material and thought processes that will make them attractive candidates going forward. Alumni stressed again and again that applicants need to be greater than a GPA number on a page, with extemporaneous thinking being a key attribute that Wall Street employers are looking for.
Several members of the Dean's Advisory Committee and the KSAA were also in attendance for the sessions, and reiterated their commitment to promoting this center of excellence within the School of Management. With many familiar faces from last year's workshops, many students expressed interest in the application process for the fall seminar of the Purdue Finance Workshop.
Applications for the fall workshop will be available starting October 11th for the November workshop.
The top 50 top students will be selected from across all Purdue disciplines to engage with alumni on Friday and develop quantitative skills through participation in a Wall Street Prep led course Saturday and Sunday (a near universally utilized seminar for first-year Wall Street analysts).
PFW HOMECOMING EVENTS 
September 22, 2014
PFW is excited to host finance alumni for two events on Friday, September 26th.
Finance Luncheon (Rawls 2077) | 12:00-1:00pm EDT
Open to all students (undergraduate & master students)
Stop-by to learn more about careers in finance – investment banking, asset management, leverage finance and corporate finance
Finance alumni will cover a range of topics including: finance career paths, network building and also provide a general update on the current state of the financial markets
Students will be encouraged to ask questions and participate in the discussion
Food and beverages will be provided | Dress is casual
Getting a Job on Wall Street (Rawls 3058) | 2:00-3:00pm EDT
Open to all students (undergraduate & master students)
Structured one hour lesson taught by three finance alumni, they will cover a range of topics including career paths, interview preparation, network building and resume critiques
Students will be encouraged to ask questions and participate in the discussion
Dress is casual