Networking with Purdue Finance Alums
November 11, 2016
A two-day workshop for undergraduate and graduate students interested in careers in finance was recently hosted by the Krannert School's Purdue Finance Workshop and Financial Management Association in cooperation with Krannert Leaders Academy, Beta Gamma Sigma and the Krannert Professional Development Center. On the evening of the first day, Nov. 10, a panel of financial executives from a broad range of organizations described what their work involved and what they thought about various current and topical issues.
Points that developed in their discussions:
Be aware of the current economic conditions

Finance, while a functional area, is affected by what happens outside the organization as well as within the organization. Achieving sensitivity to this requires that you follow what is happening in the world.  Several of the panel members recommended highly that students read the weekly periodicals.  An example is The Economist which provides a broad sense for what is happening in the global economy, is unbiased and well written.  Krannert Note: The Economist is available to students in the Parrish Library.

Knowing accounting is beneficial

You need a base in accounting as well as finance because accountants produce the numbers you use. Accounting has rules but also latitude about how the rules are applied.  This means that items in the financial statements for different organizations are not directly comparable. Lacking accounting knowledge, you will be unable to make the appropriate adjustments.  Krannert Note: A popular student choice at Krannert is to earn a double major in accounting and finance.

Build and maintain a network

Networking is important and of growing importance. Through your network, you find out about available jobs, you recommend others for jobs, you get help on technical issues, you find out what's happening, and you maintain friendships.  The participants agreed that students needed to start building their network now while still on campus with easy access to Krannert's broad alumni network.  Krannert note:  Most of the professionals who participated in the event were Krannert/Purdue alums and they were very excited about working with the students.  Don't let events like this pass by because you are busy with something else at the time.  Networking is a top priority activity in the business world. 

Know your tools

Excel is a major tool in finance.  Knowing how to build and work with financial spreadsheets is a critical skill—in your early jobs you can spend most of your working time with spreadsheets.  Statistics and data analytic tools are becoming more important as we get into the era of big data.  Krannert Note:  In Krannert, we are offering more opportunities for students to hone their Excel skills. Take advantage of every opportunity you find.  It will give you that advantage that you will need!

Ethics

Your ethics matter.  Sometimes ethical questions are black and white so the right answer is easily determined.  When you get into areas of gray, however, you need to discuss the issue with others, including those affected by the decision.  When others question your ethics, they lose trust in you. This damages your reputation and reputation can rarely be recovered.  Krannert Note: Look for opportunities to test your ethical compass, especially when it comes to taking exams and submitting homework.   

Have a story you can tell

When you look for a first internship or job in finance, interviewers are looking for those who have a passion for analysis and hard work.  Having a passion means you will do good work because you enjoy your work, even if requires 80-100 hours per week.  One of the best ways to illustrate passion is by having real experiences to talk about.  That might come from participating in a business case competition or doing a student research project for a class.  Then you can discuss what you learned from the case or what you discovered in your project.  Another way to develop a story that revels your level of interest in finance is to follow a particular transaction that you might have read about in a business publication.  The advice given was that you should start now. Pick a company involved in a transaction (merger, spinoff, going private) and dig into its financial data to understand its history over time.  Be able to explain what it did and why it did it.  That is the kind of knowledge financial professionals are expected to have.  Krannert Note: Use your Information Literacy and communication skills to complete this task.  Participate in case competitions.  Read the financial press.  Talk about what you read about.   
After the panel discussion, the panelists, students and professors moved to the Krannert lounge where, over desserts, people congregated in small groups to expand discussion on things that had been said by the panel and to start building their networks.
On the morning of the second day, Nov. 11, the panelists offered separate sessions where they discussed various topics including work-life balance, ethics, how to interview, and careers in security analysis, corporate finance, commercial banking and investment banking.
The Purdue Finance Workshop and the Krannert Leaders Academy plan to make this an annual event..  Put a "Save the Date" on your calendar for November 9-10, 2017, when it will be held again.
San Francisco Networking with the Purdue Finance Workshop
October 2016
In October, four Purdue students interested in financial careers in investment banking joined Dr. A. Charlene Sullivan on a trip to San Francisco where they were hosted by Felipe Camacho, a Krannert alum and Director of Public Finance for Wells Fargo Bank. There they met and networked with various alumni. The Krannert students who are also serving in various officer roles with the Purdue Finance Workshop were Mitchell Witteveen, Brandon Ko, Aubrey Ellis, Ti Liu, and William Mbongo. The alums they met with are:
Rajesh Ramanujam-Barclays- Investment banking
Dave Kingery-Carlyle Group-US Real Estate
Glenn Johnson-BlueVine Ventures-Venture Capital
Seth Corder-Goldman Sachs-Private Equity
Aaron Cook-Wells Fargo-Principal Investing
Scott Lummer-Savant Investment Group
Four themes emerged in the conversations with these professionals.
Purdue Finance Workshop hosts Wall Street Prep event
November 16, 2015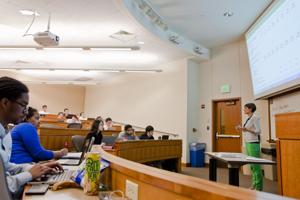 Mujtabaa Hasan | Senior Photographer

11/14/15 Hannah Barnstable, Seven Sundays
Hannah Barnstable, president and founder of Seven Sundays, teaches Wall Street Prep, a program introducing students to professional finance skills, during the Saturday session of the Purdue Finance Workshop in Rawls Hall.
The Purdue Finance Workshop, a student-run organization, hosted its main event at Rawls Hall on Saturday and Sunday. The event, a Wall Street Prep training program, aimed to introduce students to the day-to-day of a finance professional and the skills necessary to value a company.
Two Purdue students and two alumni founded the organization in the fall of 2013 to connect Purdue's Wall Street alumni with high-potential students. The goal was to provide a more structured path to obtain an internship or job in high finance.
The two-day workshop included instruction about how a Wall Street analyst values a company using financial statements, as well as instruction on how to build a financial model using Excel.
Ti Liu, a junior in the Krannert School of Management, has gotten involved with both the organization and the Wall Street Prep workshop and hopes to secure an internship in finance this summer.
"The (workshop) provides students with practical skills, but it's the soft skills that are more important and have been the most helpful to me," said Liu.
Mitch Witteveen, a sophomore in the Krannert School of Management, attended the workshop because he is considering pursuing an internship in investment banking.
"It was very interesting to learn how people use quantitative data to understand the fundamental value of a company," said Witteveen, "I feel much more confident in talking to finance professionals with the knowledge taken from this weekend."
In addition to the Wall Street Prep workshop, the organization hosts networking opportunities with alumni who return to their alma mater to teach students in hour-long sessions about how to navigate a path to a highly selective investment bank.
"The networking events give students the opportunity not only to get advice and learn, but also an opportunity to make lasting connections with alumni," said Nick Żak, co-founder of the Purdue Finance Workshop.
The four founders – Żak, Chris Moorman, Blake Saunders and Sam McCartney – all agree that the workshop is the best avenue for a student who is interested in obtaining a job in finance.
"The path Blake and I took in getting to Wall Street was all over the place and much harder than it needed to be," said Moorman, "With the (workshop), there is a more structured route, a pipeline for students."
McCartney, who was able to obtain a full-time job in Manhattan with the investment bank Guggenheim Partners, found success through the workshop.
"Building relationships with alumni through the (workshop) was instrumental for me," said McCartney.
Although the Purdue Finance Workshop is still a relatively new organization, the opportunity for Purdue students from any school is available.
"The workshop was extremely helpful to me, and it can help any motivated student who thinks this could be the path for them," said Żak.
NEWS FROM HOMECOMING WEEKEND
October 2, 2014

Homecoming weekend was a success for the Purdue Finance Workshop, with two well-attended lectures led by three alumni finance professionals. 75 students, ranging from PhD candidates to undergraduate sophomores, were in attendance in the sessions covering topics from the recruitment cycle to development of skills outside the classroom.
Even more engaged than in previous workshops, the students' questions truly carried the day with the informal tone putting communication at the forefront of both sessions. Of particular focus this year to the students, was the pivot away from traditional target schools such as the Ivies at banks like Jeffries, to a more robust recruiting engagement favoring schools such as Purdue.
Students honed in time and again on the qualitative skills needed for the interview process, looking for both reading material and thought processes that will make them attractive candidates going forward. Alumni stressed again and again that applicants need to be greater than a GPA number on a page, with extemporaneous thinking being a key attribute that Wall Street employers are looking for.
Several members of the Dean's Advisory Committee and the KSAA were also in attendance for the sessions, and reiterated their commitment to promoting this center of excellence within the School of Management. With many familiar faces from last year's workshops, many students expressed interest in the application process for the fall seminar of the Purdue Finance Workshop.
Applications for the fall workshop will be available starting October 11th for the November workshop.
The top 50 top students will be selected from across all Purdue disciplines to engage with alumni on Friday and develop quantitative skills through participation in a Wall Street Prep led course Saturday and Sunday (a near universally utilized seminar for first-year Wall Street analysts).
PFW HOMECOMING EVENTS 
September 22, 2014
PFW is excited to host finance alumni for two events on Friday, September 26th.
Finance Luncheon (Rawls 2077) | 12:00-1:00pm EDT
Open to all students (undergraduate & master students)
Stop-by to learn more about careers in finance – investment banking, asset management, leverage finance and corporate finance
Finance alumni will cover a range of topics including: finance career paths, network building and also provide a general update on the current state of the financial markets
Students will be encouraged to ask questions and participate in the discussion
Food and beverages will be provided | Dress is casual
Getting a Job on Wall Street (Rawls 3058) | 2:00-3:00pm EDT
Open to all students (undergraduate & master students)
Structured one hour lesson taught by three finance alumni, they will cover a range of topics including career paths, interview preparation, network building and resume critiques
Students will be encouraged to ask questions and participate in the discussion
Dress is casual